The Pacific Theater: A Brief History
(1941-1945)
On December 7, 1941, Japan launched a surprise attack on Pearl Harbor, located in Oahu, Hawai'i. The U.S. had stopped exporting oil and other materials to Japan, which prompted the attack. Japan had hoped to destroy the U.S. Pacific fleet which would lead to the U.S. negotiating peace. In addition, Japan launched attacks on the U.S. territories of Guam, Wake Island and the Philippines, along with attacking British- controlled Hong Kong, Burma and Malaya. Japan intended to utilize the islands as bases from which they could attack Allied forces. By May 1942, the Allies had fought Japanese forces in the Battle of Coral Sea, which lies between Australia, New Guinea and the Solomon Islands. The Battle of the Coral Sea, was a victory on both sides: the Allies were successful in stopping the Japanese advance; however, the Japanese caused more damage to the Allied fleet.
On June 4, 1942, the Allied and Japanese navies fought at the Battle of Midway. Much like the Japanese attack on Pearl Harbor, the Allied forces launched a surprise attack against the Japanese Imperial Navy and were able to destroy 254 Japanese ships and aircraft. This was a turning point for the Allies fighting in the Pacific.
After the Battle of Midway, the Allies continued to engage and defeat the Japanese navy in battle. The Allies used the strategy called "Island Hopping," in which Allied forces skipped over heavily fortified Japanese-held islands and instead captured and held lightly fortified islands to support the next advance. This then left Japanese strongholds isolated and cut off from supplies, causing the defenders to weaken due to starvation and disease. During the war, the Allies fought in almost twenty different battles, with the bloodiest being fought on the islands of Iwo Jima and Okinawa.
In the end, even though the U.S. had been victorious at the Battle of Okinawa, the U.S. government knew that continued fighting with Japan would cause many more Allied deaths. In an attempt to end the war, the U.S. dropped two atomic bombs on the Japanese cities of Hiroshima and Nagasaki. The two blasts killed between 129,000 and 226,000 people, most of them civilians, and left radiation that remained for years after.
On August 15, 1945, Japan surrendered. Then on September 2, 1945, Japan signed" The Instrument of Surrender," the official surrender, aboard the USS Missouri.
The Battle of Okinawa
(April 1st – June 22nd, 1945)
The Battle of Okinawa, which was codenamed "Operation Iceberg," was one of the major battles of the Pacific War. It was a joint operation of the United States Army and the United States Marine Corps pitted against the Imperial Japanese Army on the island of Okinawa. The invasion began on April 1, 1945, and was considered the largest amphibious assault in the Pacific Theater during World War II.
Read more about the Battle of Okinawa from the eyes of Naval Officer Chauncey M. Depuy below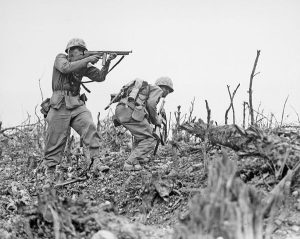 A Man on a Journey: The Story of Chauncey Depuy
Chauncey M. Depuy was born on November 28, 1907 in Diehl, NY. During his childhood, his family moved to Chambersburg, PA, where he graduated from Chambersburg High School in 1924. After grade school, Depuy earned his bachelor degree in 1928 from Dickson College in Carlisle, PA, and then a doctor of laws degree in 1935 from the University of Pennsylvania Law School. After completing his education, Depuy began to practice law in Franklin County from 1937-1967, where he held many positions, including Common Pleas Judge of Pennsylvania from 1955-1966, and Chief Hearing Officer from 1966 to 1972 at the Federal Home Loan Bank Board in Washington D.C. Depuy also served as mayor of Chambersburg, PA.
Information above was provided from the Franklin County Historical Society
Depuy's WWII Journey
Depuy was called to active duty in the United States Naval Reserve on July 6, 1942, at the Naval Officers' Training School at Dartmouth College in Hanover, New Hampshire. Soon after graduation, Depuy started his journey that ultimately brought him to Okinawa.
September 1, 1942, Depuy was ordered to the Harbor Entrance Control Post at Fort Scott in San Francisco, California. It was a joint Army-Navy Harbor defense activity situated at all harbors during wartime. Depuy controlled of underwater mines, acoustical detection devices, surface ships and submarines that were used to detect enemy attacks.
November 1, 1942, Depuy was ordered to H.E.C.P., N.O.B, Adak, Aleutian Islands, Alaska, with four other officers to establish a facility at a new base, which was the intended Gibraltar of the northwest Pacific. Their intent was recovering the Alaskan islands of Kiska and Attu from the Japanese and possibly to land on the Kurile Islands of Japan. Depuy soon became the executive officer at this newly established Alaskan base.
June 1, 1944, Depuy was ordered back to school at the Naval School of Military Government at Columbia University in New York City for a nine-month course. Here he studied Mandarin Chinese over 20 hours a week. During this time in the war, Admiral Nimitz and General MacArthur intended to establish air bases in China that they would use to bomb Japan; although MacArthur later considered this to be unnecessary and began developing a different plan of action against the Japanese.
December 15, 1944, Depuy was ordered to Fort Ord in California.
January 1, 1945, Depuy departed San Francisco aboard the U.S.S. Wharton, which after the war was remodeled into the tourist liner known as the Southern Cross, heading toward an unknown destination. Those on board had heard rumors that they were in Japanese territory. Before sailing, Depuy purchased Japanese language books in San Francisco and spent his six-week journey across the Pacific learning how to speak Japanese. The lengthy journey included stops at different ports, including Pearl Harbor and Eniwetok.
February 15, 1945, Depuy and his fellow crew members landed at Leyte Island, which was a Philippine staging area for an attack on the Ryukyu Islands. There they joined the 96th Infantry Division as part of the "B" team of Military Government for the Okinawa invasion. At Leyte, all forces used the time to practice efficient loading and unloading of their ships for the invasion.
April 1, 1945 (Easter), (The words of Depuy): "With the fleet offshore at Okinawa. Our troops landed without enemy resistance! Japanese were well entrenched in a system of caves further south, where bitter and costly fighting soon developed. Three Marine divisions landed and struck north to occupy the island. Three Army divisions landed and struck south. Severe fighting occurred until the island was declared secure on June 15, 1945 (a month longer than had been intended)."
Information above was provided by the FA&M Depuy Paper Ephemera Collection
Depuy traveled to Okinawa with the 96th Infantry Division as a Military Government Officer from April 1 to October 15, 1945. His division landed at Sunabe, which is on the west coast a little north of Chatan. The division then traveled to other places, including Kozo, Shimabuku, Nodake, Futoma, Atanniya, and Kiahaba. While Depuy was stationed on the island, he developed a great affection towards the people of Okinawa, and he became close friends with many of them. Even after returning to Chambersburg, where he lived the rest of his life, he kept in touch with a few friends and occasionally even met up with one of their daughters, who lived in Washington D.C. After the war, Depuy continued to practice law until his death in 1995 in an auto accident.
A Gift to Remember
Before Depuy departed Okinawa for the United States, the Ryukyuan (as the people of Okinawa were called) gave Depuy some souvenirs to take back to Chambersburg, PA, with him. Some of these items will appear further down the page, but one item stands as a remembrance to The Battle of Okinawa and World War II. Depuy brought back this Japanese soldier's helmet so he would always remember the sacrifices that were made during the war and to be grateful for everything for which they fought.
"These images can be disturbing to some viewers, viewer discretion is advised"
The Battle of Okinawa: Told Through the Eyes of Chauncey M. Depuy
Click Each Picture To Enlarge
Fun Fact
Shiitake mushrooms, tofu, soy milk, teriyaki, and sushi are all from Japan.
Fashion That Expands Generations: Kimono Style
One of the most significant Japanese styles that has stretched beyond Japan's borders is the kimono. With its literal translation meaning "clothing," these pieces of what seems to be simple fabric have represented a forever evolving Japanese culture. During the Nara period (710-794) and heavily influenced by the Tang Dynasty of China, variations of the kimono began to appear in Japanese fashion. Officially named the tarikubi robe, this robe consisted of several layers. The upper layer was a jacket with a variation of different patterns and the lower part was a skirt that was to be draped across the waist.
During the Heian Period (794-1185) the kimono began to see a flourish with its own aesthetic culture. The development of new technology allowed for a new kimono-making technique, name a straight-line-cut method. This technique allowed for kimonos to be adjusted to any body-shape and more suitable for all kinds of weather. The kimono began to reflect the wearer's political status, personality, social status, and political class through the symbolism and color combination. Expensive colors and imported fabrics such as silk were common and limited to those of higher status. Those of common status were forbidden to wear bright colors.
Looking deeper into the kimono's history, during the Edo Period (1603-1868) the kimono began to become simpler and more sophisticated at the same time. Kimonos became family heirlooms and more valuable. Japanese kimonos are often connected to the "floating world," which is a concept that represents pleasure, entertainment, and drama. During this period Japan created a strict isolationist policy, which only allowed contact with one country, the Netherlands. This closed market allowed Japanese silk merchants to monopolize the creation of kimonos for the European market.
After WWII, the Japanese people stopped wearing kimonos. After the destruction of the war, the people were trying to rebuild their lives and adopted western-style garments. Those who wore kimonos typically only wore them for special life events such as weddings. As America occupied Japan following WWII, Japanese culture began to Americanize. The Japanese government began to worry that Americanization would erode traditional Japanese culture and traditions. In recent history, there has been a revival of the kimono in Japan and across the world. Several fashion designers have reshaped the kimono, including Yves Saint Laurent and Christian Dior. Famous performers such as Freddie Mercury and Madonna wore kimonos representing the timelessness and adaptability of the fashion.
Overall, the Japanese people are generally accepting of foreigners wearing the kimono. There are several places in Japan that rent kimonos or give lessons on how to wear them. Let's take a look at how to wear a kimono properly.
Fun Fact
The first Japanese anime that was sold in America was Astro Boy.
Japanese Culture in America
After the end of the American occupation of Japan in 1952, returning soldiers brought with them a new culture and ideas. While many often think how Americans impacted Japan, it is often overlooked just how much Japan influenced America. Cross-cultural exchange is exactly that: cross-cultural.
When soldiers returned from their stations in Japan, they brought back a variety of souvenirs, including  clothing, trinkets and non-physical culture that they then added to their personal collections. Sometimes, especially in someone like Depuy's case, the soldiers received these items from the civilians for whom they provided either general aid or medical care. When soldiers arrived home with these items, they became talking points and a physical reminder of their time spent overseas.
The most common and more recent form of Japanese culture present in America is Marie Kondo's ideas of minimalism. This transfer, though semi-new, has swept through the United States like wildfire. But this is just one example of how Japanese culture has stretched across the Pacific. For example, Depuy brought back with him various kimonos that ranged in size and design. These items were never worn, yet still he felt the need to bring them back. This desire to experience and adopt multiple cultures is a universal experience that to which many people can relate. Other ways that Japanese culture has found new roots in the United States is through modern fashion. While kimonos are timeless in and of themselves, Japanese skate culture is one that Americans have adapted in recent years. This style's trademark is the baggy t-shirts over top of the long-sleevee tees with writing down the sleeves, usually paired with joggers. While this style is deemed "troublesome" in Japan, in America it has caught on rather quickly.
This modern example of fashion can be applied to the soldiers stationed in and returning from Japan. While there, they had the option to participate in Japanese clothing styles and upon returning to the State. Fashion is often found to be a staple of cross-cultural exchange and that certainly can be seen between Japan and the United States after the occupation.
Items below were all brought back to the United States from Okinawa by Chauncey M. Depuy and then donated to the Fashion Archives & Museum in 1982.
All items above are from the FA&M Depuy Collection
Fun Fact
Japanese filmmaker Akira Kurosawa inspired now-famous directors, including George Lucas, Quentin Tarantino and Steven Spielberg.
Lesson Plan & Activities for Teachers
Click The Links To Download The Worksheets & Activity Set
Journey to Okinawa-Guided Questions
Webpage Designed by Masters in Applied History Students in Dr. Karin J. Bohleke's HIS 541: Museum Education
Peyton Bramble, Sarah Hoffeditz, Alexis McDonald, & Shawn Pokrop