Heroes
Heroes are people admired for their achievements and noble qualities, according to Merriam-Webster. Heroes come in all shapes and sizes; they can be soldiers or firefighters, nurses or teachers. A hero is somebody who has made a difference in the lives of others. Communities, big and small, have their own heroes such as their local firefighting department or the doctors at the hospital. Below you will learn about some of the historic heroes of Shippensburg, Pennsylvania. Among them are soldiers, nurses, and educators. This is the story of local heroes as told through their clothing.
Soldiers
Throughout history and across cultures, those who have displayed skills in combat and have traditionally fought for the safety or well being of the community where they were raised. Soldiers often represent the character of a nation or people that have a long history of honor and patriotism. Often cited are their sacrifices made for the betterment of their society and are often called heroes. Though not all soldiers consider themselves a hero, and not every hero is a soldier, we can still give thanks to those who take up the profession and help their community and many thousands of communities across the country and globe.
Military forces were one of the first professions to adopt specific attire. Typically related to combat or their duties while on the field, the attire has evolved over time to include parade uniforms and dress uniforms. Two such examples can be seen here.
This first uniform consists of an Eisenhower jacket, named after Ike Eisenhower who became president of the US after World War 2. The straps on the shoulders, called epaulettes, hold pins representing rank and unit insignias. This example was worn by a Dr. Lloyd W. in World War 2 as he performed his duties in the military.
Another uniform, seen here, is a Korean War man's officer's Class A wool jacket. Marked with the XX Corps patch on the left shoulder, it belonged to Arthur Grant Schoolcraft of the 37th Field Artillery. Here we have a photo of Officer Schoolcraft, looking dashing in another uniform, showing yet another style. Some branches, as the Navy, has up to 6 operational uniforms per sailor: Working, Service, Service Dress, Ceremonial, Dinner Dress, and Training.
Nurses
The two nursing uniforms pictured belonged to Lois Spenser and W. Abbott, both of whom were local nurses. Lois' nursing graduation uniform is pictured on the right. The uniform features small tucks on the front shoulders, center back neckline, and waistline. Additionally, there is a flared skirt held in by a fitted waistband. She graduated with her nursing credentials from Genesee Hospital in Rochester, New York, in 1949.
The uniform that belonged to W. Abbott is a Woman's Hospital and Recreation Services uniform. The long-sleeved dress and waistband are held together at the front by buttons. The cuffs on the sleeves are blue and match the epaulettes on the shoulders.
Nurses play a valuable role in maintaining the health of a community. They are responsible for assisting in doctor's appointments and administering medication among other things; some nurses even have additional training to assist in more specialized care such as surgeries or childbirth. In times of war, some nurses may move to the front lines where they care for wounded soldiers or sick soldiers. Nurses have continued to play a prominent role in the twenty-first century. Think about the COVID-19 pandemic: nurses were invaluable in caring for the sick to mitigate the disease in order to maintain a healthy population within their respective communities. The medical professionals who worked throughout the pandemic were hailed as heroes around the world. Some of these heroes resided here in Shippensburg, Pennsylvania.
Educators
Since its founding in 1871, Shippensburg University has been a major source of pride for the Shippensburg area. The professors employed at the university must be given a tremendous amount of credit for the role they have played in making Shippensburg University the respected institution it is today. The attire of professors has varied very dramatically over the university's 150-year history as a reflection of how society has similarly changed over that time.
Velva Daihl was heavily involved with education in Shippensburg. She held college degrees from Dickinson and Penn State which she used to teach humanities at schools in Harbor Creek and Shippensburg. After teaching for over thirty years she retired from teaching at the grade school level and switched to working as a student teacher supervisor at the Shippensburg State College (now Shippensburg University). Ms. Daihl wore the pink linen suit during her time teaching at the Shippensburg State College. The suit jacket features a double collar with points and the skirt has a knife-pleat at the center front.
For a more modern example, demonstrating how much things have changed, the founder of the Fashion Archives and Museum at Shippensburg University, Dr. Elizabeth J. Thompson, purchased this university sweatshirt. While it was not purchased by Thompson to wear, it shows just how dramatically the styles have changed in just a small portion of the University's history.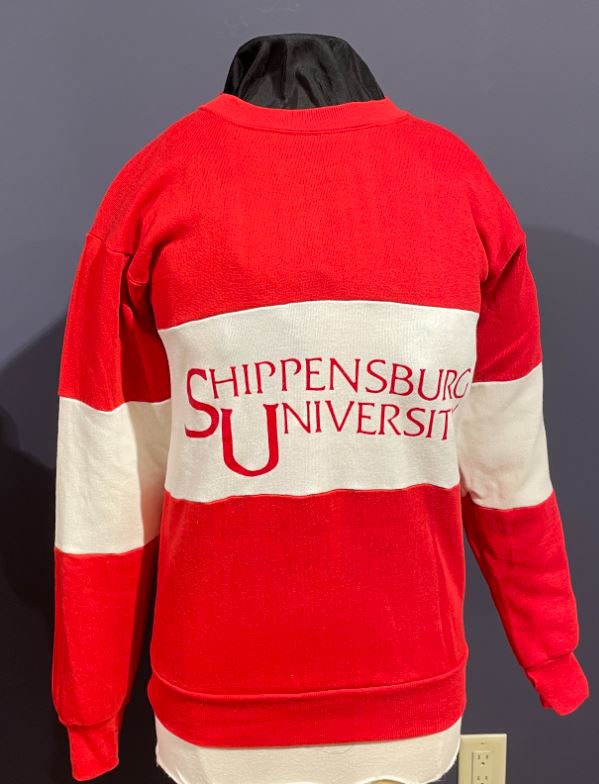 Daihl and Thompson understood the importance of teaching both students and adults. Teachers are responsible for educating people about the world around them. Not only do teachers provide an education for students, but they can also provide a safe space and act as advocates for students who are incapable of speaking for themselves. They make a difference in the lives of youth and young adults.
Be a Hero
Heroes are all around us. While many will think of spandex and flowing capes, most wear more common clothes: uniforms, dresses, sweaters, jeans, and t-shirts. These are the clothes of the everyday hero. From those who charge into danger for the safety of others, to those who give all their energy to protecting those who are hurt, to those who dedicate themselves to passing down knowledge between generations, there are near infinite ways to be a hero. This is just a small selection of ways to be one. How will you be a hero?
For more fun learning about Hometown Heroes, check out this worksheet: