The Nursing Corps
The Army Nurse Corps (ANC) was officially established in 1901, with the navy equivalent following a few years later. In 1940 the ANC had 700 members, but months after Pearl Harbor 12,000 nurses were in service. From July 1943 through September 1945, approximately 27,330 newly inducted nurses graduated from fifteen army training centers.
The ANC played an essential role on overseas battlefields, and just as grueling as that of male soldiers. Nurses had to make: twenty mile hikes while wearing a four pound helmet and carrying thirty pound packs.
In North Africa, nurses followed the soldiers off ships and set up tent hospitals on shore as they were under fire. Usually 18 nurses were assigned to a field hospital, which could handle 75 to 150 patients. They worked twenty-four hour days, often falling asleep on the ground, and many gave up their rations to injured soldiers. These conditions necessitated a change in uniform. Instead of starched white dresses, nurses wore army fatigues suitable for their work in tent hospitals.
Despite their many sacrifices, most nurses could only attain rank of second lieutenant, while men with equivalent skills and education could expect to rise in rank. Even though some nurses such as ANC Chief Julia Flikke and Florence Blanchfield commanded more people than colonels, their rank stayed the same. Black women were barred from the ANC until Congress forced integration in 1943. The first black medical unit to deploy overseas was the 25th Station Hospital Unit, which contained thirty nurses.
Despite their many sacrifices, the heroic actions of the ANC often went unpublicized. This was partially because the news was far more interested in the new and controversial Women's Army Auxiliary Corps (WAAC), while the ANC was a long established institution. The main reason was the Army did not want to scare off potential recruits, as throughout the war there was a chronic shortage of nurses.
The pictures below from left to right: Woman Nursing Corps Uniform (Army) (S2017-09-001, donated by J. Nelson), Ester Nelson in her Nursing Corps Uniform (S2017-09-024 donated by J. Nelson), and a Field Uniform  (S2017-09-009 donated by J. Nelson; S2017-09-011 donated by J. Nelson).

Workings of WAACS & WAVES
The Women's Army Auxiliary Corps (WAAC, later WAC) was the first non-nursing women's military unit. Spearheaded by Representative Edith Nourse Rogers, WAC was officially established May 15, 1942. Pearl Harbor was the driving force behind the bill's passage, as support for the war effort outweighed any opposition to female enlistment. The Women Accepted for Volunteer Service (WAVES), the Naval form of WAC, began July 30, 1942 and passed with little controversy due to the precedent set by WAC.
Enlistment began with basic training that included marching, strict routines, and rigorous classwork. After basic, recruits transferred to specialty schools all over the country, where they defined their MOS (military occupational specialty). However, WAVES recruits had to have a Bachelor's degree of two years college combined with two years of work experience, whereas WAC recruits only had to be 21 years old. A major difference between the two branches is WAAC enlisted many more African American women than WAVES. The first two black women were accepted in 1944 when 100,000 white women had already joined.
Women were excluded from combat-related positions, but both branches offered a wide variety of specialties such as communication specialists, cryptographers, lab technicians, mechanics, air traffic controllers, and more. The WACs were often stationed overseas, while WAVES stayed within U.S. territories for the duration of the war. WAVES were more likely to have higher security clearances and be on the cutting edge of technology.
The WAC enlistment suffered from negative publicity portraying the unit as housekeepers and cleaners, as well as unfounded rumors of scandalous behavior with male soldiers. The WAVES learned from their P.R. pitfalls, and from the beginning avoided patronizing slogans and references to traditional women's work. The WAVES uniforms also helped to bolster their image. The WACs depended on government issued uniforms, with early recruits at Fort Des Moines going months without winter wear. The WACs uniform that is shown below was worn by Edna "Eddie" Devore. The WAVES were given a $200 allowance to buy their own uniforms from private contractors. The WAVES uniform pictured below was worn by Jeannette Russell Rothensies Johns (1916-2015), she was an ensign and was stationed in Washington D.C. Few other military branches had this level of freedom.
The pictures below from left to right: WACS uniform (S2013-04-001, donated by T. Hovetter), WAVES uniform (S2020-10-001 donated by M. Cook)

The Red Cross's Role During the Second World War 
The Red Cross began during the Civil War with Clara Barton and other volunteers helping in Union field hospitals. After the Civil War ended, these groups of volunteers helped in civil disasters such as the 1888 yellow fever outbreak in Florida and the Johnstown Flood in 1889.
During World War II, the Red Cross was called upon to aid the Allied nations. The Red Cross had about 104,000 nurses involved in military service and 153,000 active status nurses overall. Beyond the military, the Red Cross also donated approximately 27 million packages to those Allies who became prisoners of war. 300,000 tons of supplies were shipped oversees by the Red Cross as well.
The Red Cross was extremely important in the war effort. The Red Cross started the first national blood drive on behalf of the U.S. Military. In the end, the blood drive collected about 13.3 million pints of blood.
Red Cross Uniforms varied depending on the role of the volunteer. A stable color-coded system differentiated the uniforms, and the system remained stable throughout the war. As with the military, there were rules and requirements regarding the uniforms. These uniforms were washable and provided by the organization. The uniforms transformed over time, there were changes for weather and location of service. There was a great demand for the seersucker material that was used to make many of the uniforms (like the one pictured on the bottom right). This resulted in another manufacturer being used along with the gray stripe fabric until more of the solid gray was available.
The photo on the left is of a nurse's aid (S2018-23-001, donated by Solek), then the nurse's cap (S1986-02-005, donated by Toney), and the seersucker uniform (S2013-37-001, donated by M. Stillman).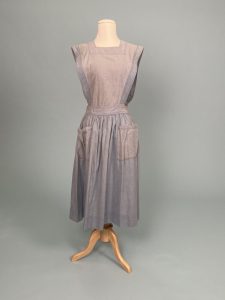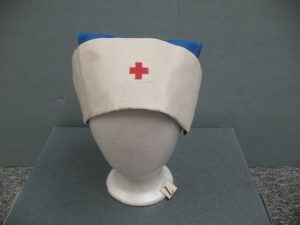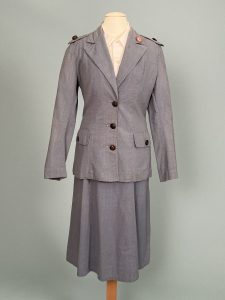 Substituting goods: the Dupes of World War 2
Women who were not a part of the military or the Red Cross still participated in the war effort.  Women became volunteers, which continued their traditional feminine roles in wartime society. The American Women's Voluntary Services was one of the many organizations women could join. In addition, many went to work taking over jobs previously held by men.
To assist in the war effort President Franklin D. Roosevelt passed Executive Order 8875 introducing the Office of Price Administration (OPA). The OPA was in charge of placing a ceiling on prices of goods and to limit consumption with rationing. This affected women in all aspects of their daily lives by limiting the amount of silk, shoes, nylon, butter, and other goods one could purchase, consumer consumption being overlooked in favor of military production. This rationing meant that women were now responsible for making do with less in all aspects of their daily lives. Women now had to forgo certain luxuries, such as new clothing, to help support the war effort. Without access to certain fabrics, women now were responsible for substituting goods in order to clothe their families and themselves.
Another change came when women decided to follow the propaganda and go to work in the factories. When factories provided women with uniforms, it would be garments derived from men's clothing. Catalogues such as Sears and Roebucks advertised nursing uniforms and factory uniforms, with the factory workers wearing pants. Other uniforms were advertised as being "all purpose uniforms" that were professional while still maintaining a feminine touch.
Because of the rationing, materials like snake skin and similar non-rationed substances were used to create clothing items. The items shown below represent some examples of the rationing regulations. The swimsuit (S2016-20-002, donated by B. Doyle) and dress (S1981-26-008, donated by Garland) pictured below are an example of a homemade product. The swimsuit is made from a tablecloth and the dress is without sleeves to ration fabric. The shoes (S1991-45-733, donated by Darnell) illustrate the industrial production change by making the shoes out of snakeskin.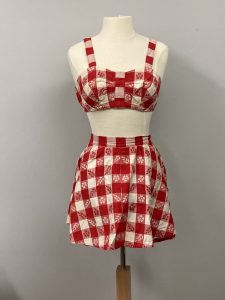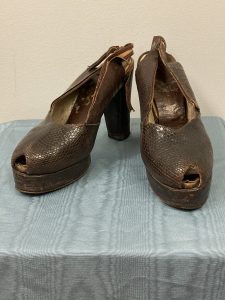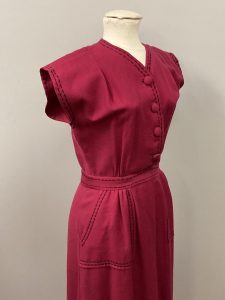 Further reading:
American Red Cross. A Brief History of the American Red Cross. PDF file. https://www.redcross.org/content/dam/redcross/National/history-full-history.pdf
Powers, Shirley. A Guide To American Red Cross Uniforms. Second Edition. April 2006. https://www.collectarc.com/Uniform%20Guide.pdf
Weatherford, Doris. American Women During World War II An Encyclopedia. Routledge, New York. 2010.
United States Army. The Army Nurse Corps: A Commemoration of World War II Service.
"The History of the Army Nurse Corps." Youtube video, 38:26, "Army Medicine," January 31, 2013. Webhttps://www.youtube.com/wat,h?v=iDExHl_aVQ8&list=UUiPX96lTaNjB54dg8VZYxxw&index=1
"Welcome to Army Nurse Corps History 'Preserving our past to guide our future,'" Office of Medical History – Army Nurse Corps History, history.amedd.army.mil/ANCWebsite/anchome.html.
"Navy Nurse Corps." Naval History and Heritage Command, 30 Nov. 2017, 08:05:49 EST, www.history.navy.mil/browse-by-topic/diversity/women-in-the-navy/navy-nurse-corps.html.